Boost Online Visibility with our Local SEO Services
Improve your business Visibility online with our Local SEO Agency With our fully-managed local SEO Agency, you will get an all-in-one solution for local search. With Leadschief, you'll get a personalized SEO plan, experienced campaign implementation, and frequent reporting – everything you need to rank for important local keywords.
Building Experience & Give High Success Rates
Our Local SEO agency gives you an effective way to increase the visibility of your business in search engine results, specifically for customers in your local community. By optimizing your website for local search, you can improve your chances of appearing at the top of search engine results for keywords and phrases related to your business.
Our team also provides much more than just local SEO. As a full-service digital marketing business, we provide a complete variety of online marketing services, from basic SEO to Pay Per Click Advertising management to Web design.
How Local SEO helps you to increase the visibility of your website as well as your business?
Check out our exclusive post on Instagram about how local SEO can be beneficial for your business
How Our Local SEO Experts Can Help Your Business Grow
Investing in local SEO can provide numerous benefits for your small business, including increased visibility, improved user experience, and enhanced online reputation. Contact our team today to learn more about how we can help boost your online presence in your local community.
Our team of local SEO experts will conduct in-depth research to identify the most effective keywords for your business. We will consider factors such as your industry, target audience, and competition to ensure that we select the right keywords for your campaign.
Optimizing your website for local search is essential for improving your visibility in search engine results. This involves providing up-to-date information about your business, such as your location, and working hours.
Our team of local SEO experts will monitor & manage online reviews and ratings for your business. We will track reviews on popular sites such as Google My Business and respond to both positive and negative reviews in a timely and professional manner.
Creating and distributing local content is an effective way to improve your visibility in search engine results. By publishing content that is relevant to your local community, you can improve your chances of appearing in local search results and attract the attention of potential customers.
Another important aspect of tracking the performance of your local SEO efforts is monitoring your search engine rankings. This can be done using a variety of tools, such as the Google Search Console, which will show you the keywords that your website is ranking for & the position.
Local SEO is a complex process that involves a variety of different tactics and strategies. As such, it can be challenging for businesses to navigate and implement these tactics effectively on their own. We'll help you take the right steps to improve your online presence .
What clients say about our Local SEO Agency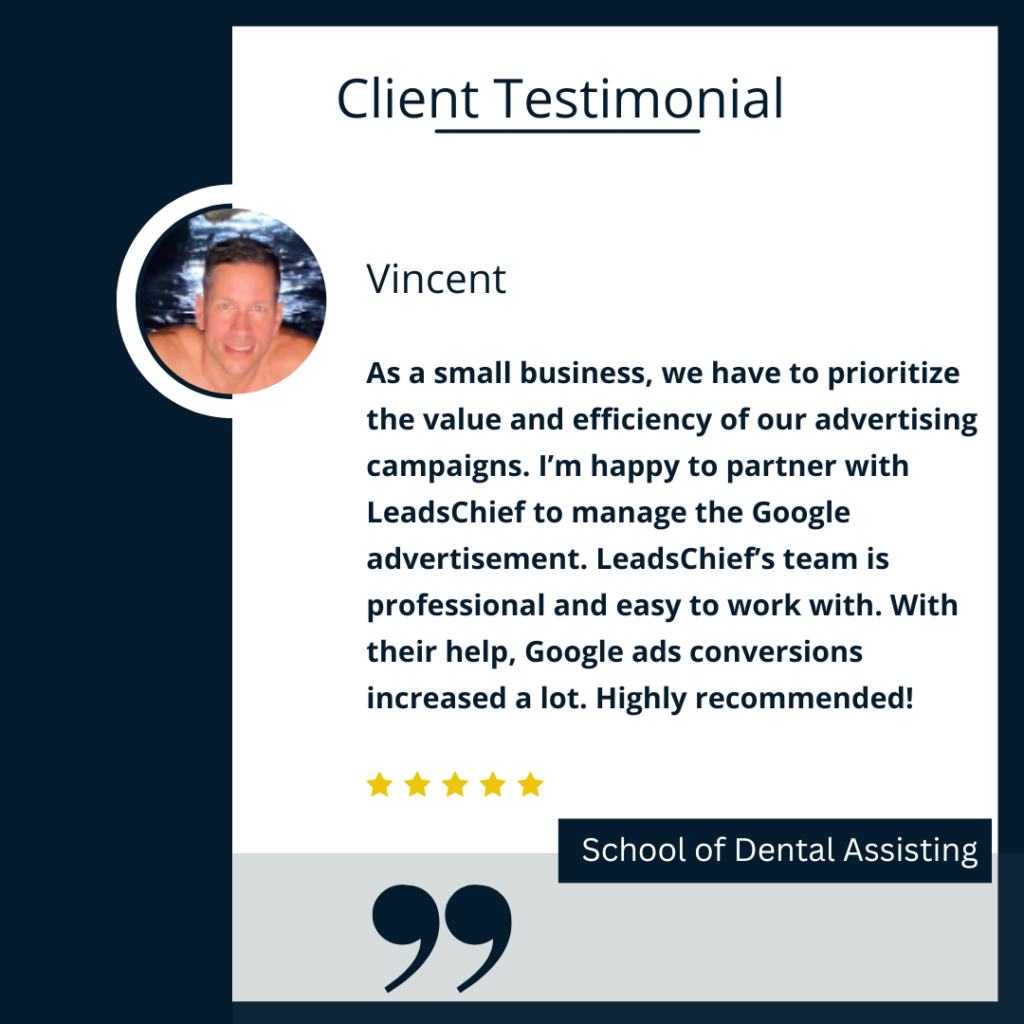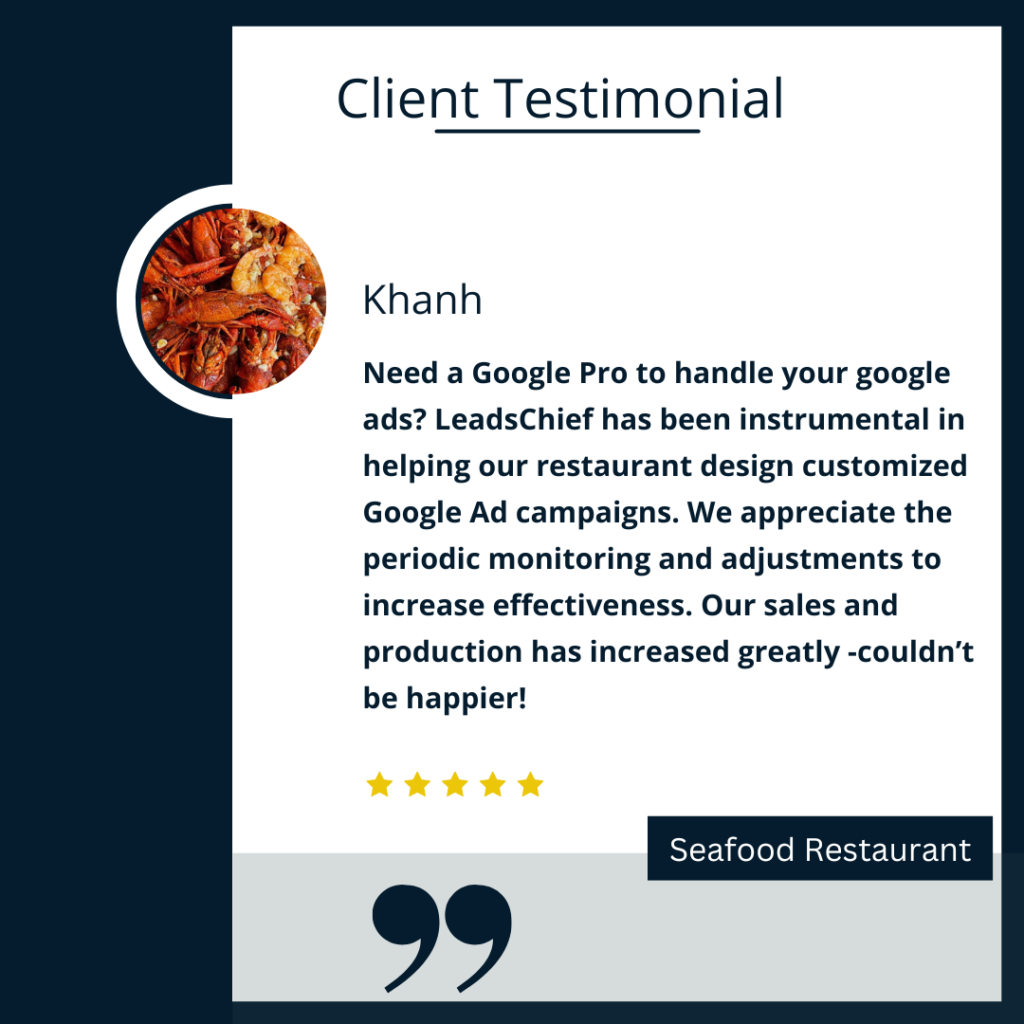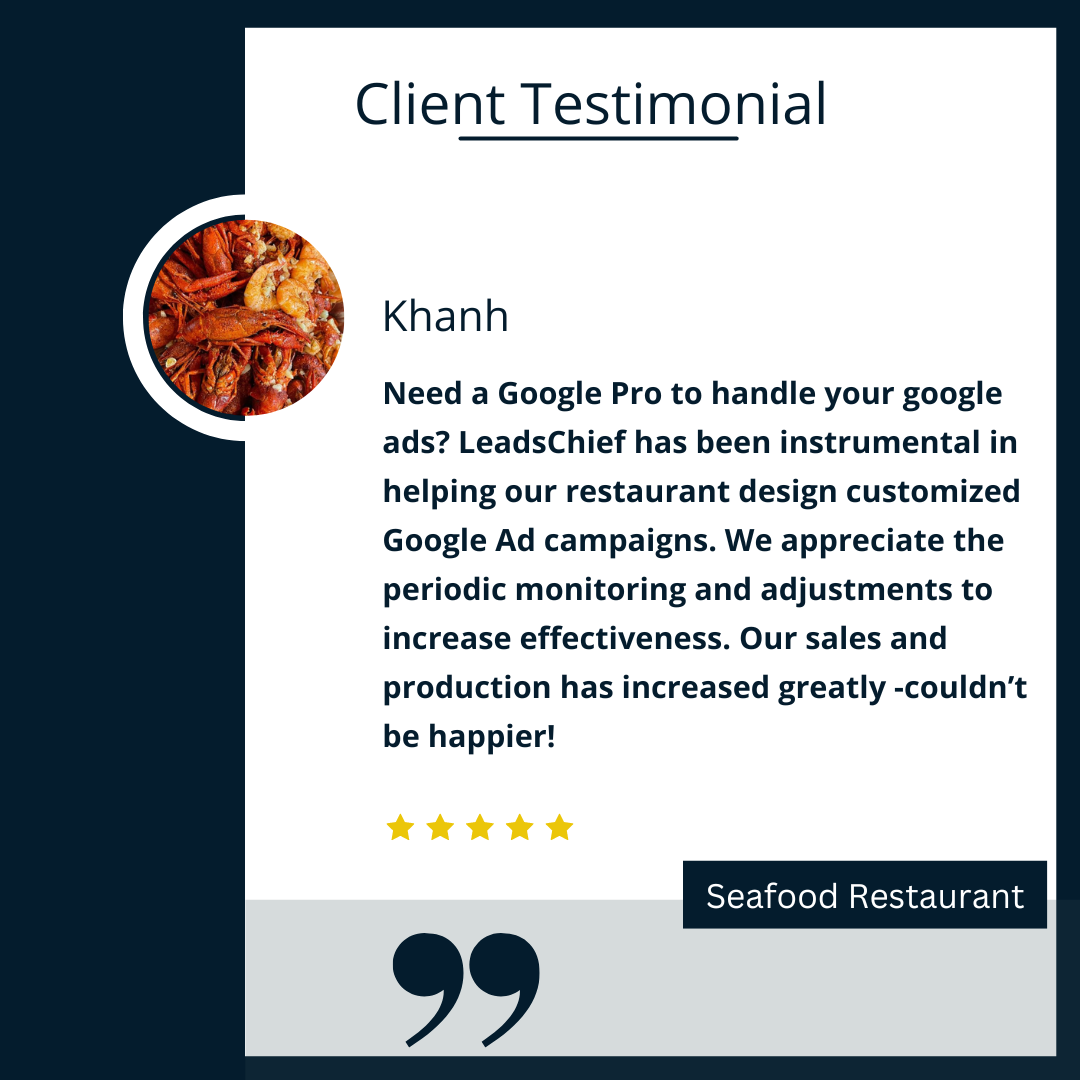 Why is local SEO important?
The Advantages
of Local SEO Services
With Leadschief's large list of services, it's difficult to understand how they all operate together to influence your business. The quick answer is that your local SEO campaign will have a powerful impact on your business.
Local SEO is a trackable technique, you'll never be in the dark about how well your campaign is doing. You'll be able to observe in real-time how your local SEO performs with systems like Google Analytics or other website analytics tool.
Google my business map allow your company to appear at the top of Google search result pages, ensuring that clients notice your company first and there are few chances that they will click.
Users will notice great reviews from previous customers & have quick access to your website if you have a GMB profile. You can expect website traffic if you make it easy for consumers to find you online.
Many individuals may search for "restaurant near me" in order to find a restaurant near them. This allows you to appear in search results and draw people to your real location.
Many of your competitors may not have listed their firm on Google Business Profile, which means they will not appear on Google Maps. If you want to be ahead of the competition, create your GMB profile.