Care Home Marketing Strategies to Follow in 2023
Are you a care home professional looking to attract more patients and residents to your facility? If yes, then this blog post will answer all questions about how to market a care home.
Care Homes are specially made for needy, sick, and aged people above 60 years. According to a survey in the United States, nearly 1 in 10 residents aged 75 to 84 stays in a care home facility for 5 or more years.
As the above demographics reveal that a multitude of individuals has been living a life in such agony. This clearly depicts that the care home business is a massive industry across the globe. Nursing facilities are run by teams of skilled professionals who provide residential places with a skilled nursing facility, memory care, and every possible type of care done by professional nurses.
Care Home Marketing Plan- All you need to know to promote your care home facility and attract more residents.
1. Care Home Marketing to drive more Website Traffic
Care homes can use traditional media and digital media simultaneously to drive traffic to its website. Ads are running for the website, that provide contact information so that the viewers or the visitors of the website could schedule a call or an appointment.
As per the survey, 88% of healthcare appointments are scheduled through phone calls.
2. Digital Presence of Your Care Home
The present era of digitalization gives people the facility to access any sort of information just by sitting in their bedrooms. There are websites beautifully created in order to attract visitors who are looking for care home services. A website comprises significant details of the organization such as:
what facilities do your care homes offer
contact information
feedback options
photographs, videos, and other types of moving graphics and animation are used to make the website presentable.
3. PPC (Pay Per Click) Advertising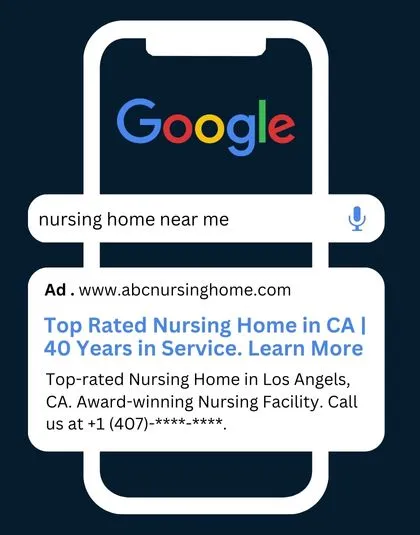 The model of digital advertising where the advertiser pays a fee each time one of the ads is clicked is PPC advertising. Care homes can use PPC marketing strategies to target a potential audience, get more ad clicks and drive more leads and conversions. Every click takes the user to a website or landing page where online users can explore more about your services and call you for more details.
The best thing about PPC advertising is that you can measure your ROI and you stay in complete control of your budget.
4. Care Home Marketing on Facebook
Facebook is a well-known and easy-to-operate social platform utilized by potential users. Care Homes can create Facebook Pages or community groups as per their requirements. People who are interested in care home facilities can join pages and communities to offer and seek help related to their needs.
You can reach targeted customers using Facebook Ads to drive interested people and generate more leads and inquiries for your facility.
5. Informative Video Content for Care Home Marketing
Video content is the best way of communicating with audiences across the world. But why is it considered the best? As a video has both audio and motion pictures, this makes it more convenient to understand the subject.
Video streaming platforms like YouTube are filled with informative videos, business videos, and entertainment as well. Nursing Professionals can make such videos to share their expertise, best practices, and top services to present themselves as a trusted and reliable service provider.
6. Care Home Marketing on Instagram
Instagram is another social media application that could be accessed by anyone and can be used to promote your care home. It is a great platform for gaining a heterogeneous audience. Care Homes can run active accounts on social media by sharing images and videos associated with facilities, residences, rooms, and apartments. It provides significant links that can take interested customers to a website.
Apart from this, care homes can mention contact details as well. All these features make Instagram a valuable platform to connect with your community and promote your nursing services.
7. Care Home Marketing by Listing your business on Google My Business/ Google Maps for local searches.
Through Google my business listings, care homes can show up when people search for "nursing homes near me" and other related searches. Internet users can locate your care home facility, get directions, can visit your website, call your business, or check your ratings.
8. Traditional Media Marketing for Care Homes
Newspapers, magazines, brochures, booklets, or any printed material that provides readers with informative content are examples of traditional marketing. Newspaper ads contain texts and images that generate awareness and have the tendency to drive more traffic. Care home professionals can pay to book advertisements in local newspapers, or any printed media. These ads help in scheduling appointments and driving people to their facilities.
9. Networking with other healthcare services
There is a saying by Diane Helbig, "Networking is an investment in your business. It takes time and when done correctly can yield great results for years to come."
Networking is a vital activity to propagate your business. Small businesses, or organizations which have limited customers would benefit from networking strategies. To present yourself as a trusted nursing care home provider, you can attend local events or host local events. This can create multiple opportunities to drive more residents to your care homes.
10. SEO (Search Engine Optimization)
The acronym of SEO is Search Engine Optimization. Is a process of upgrading your website to increase its visibility on Google, Microsoft, and other search engines. A care home website that appears on the 2nd or 3rd page of Google is not good. The rankings for such websites can be improved on Google searches by SEO optimization.