Complete Dental Marketing Guide | How to Get More Patients to Your Dental Office

Attracting new patients for your dental office is important for the success of any dental office.
Let's start by highlighting some reasons why attracting new patients is important:
1. Attracting New Patients Brings More Revenue
With every new patient walking through your dental office, you generate more revenue. Without a steady flow of new patients, running a successful dental practice can be difficult. A profitable practice can be maintained by bringing in new patients to make up for any losses brought on by attrition.
2. New Patients Bring More Growth
Growing a dental practice demands attracting new clients. When your business grows, you can increase the number of services you offer, hire additional staff, and buy new tools to better serve your clients.
3. New Patients Build Better Reputation
A dental office's reputation can be built and sustained by bringing in new clients. Good word-of-mouth recommendations from delighted clients can aid in establishing your practice as a dependable and respectable supplier of dental services in the neighborhood.
4. Competitive Advantage
Gaining new clients will provide dental offices with a competitive edge over other local clinics. Dental offices can stand out from the crowd and draw in new patients by providing top-notch services, a welcoming atmosphere, and flexible scheduling options.
5. Patient Retention
Making sure your current patients feel appreciated and continue getting the high-quality care they expect builds loyalty. This increases the chances of getting more referrals and adds more patients to your dental office.
Most Dental practices face challenges in getting new patients and growing because of multiple factors such as increasing competition, changing customer behaviors (people needing dental services turn on the internet to find new dental offices, making it increasingly important to have a strong online presence), lack of awareness, fear, and anxiety of visiting dentists, costs, and limited availability. 
Dental practices can use a variety of tactics to address these issues that restricts their business growth such as developing a strong online presence, offering rewards for references, giving patients access to instructional materials, and establishing flexible scheduling choices. 
Dental Marketing Strategy: How to Attract More Dental Patients
Get more Dental Patients by Leveraging your Online Presence
Today most people search for nearby dental services online using their smartphones or computers. And if you want your dental practice to have a regular flow of new patients, you must invest money and time to grow your online presence. And if you don't do this, you are just opening doors for other dentists to take away your existing patients or any new patients who should have walked into your office or scheduled a meeting.
Dental patients who need to consult a dentist can use their smartphone to search "dentist near me" on Google. Next, they would see some dental websites at the top of Google Searches and contact them for dental needs.
(You can see in the picture that dental offices that have invested in building their online presence, appear when their ideal patients search for them online)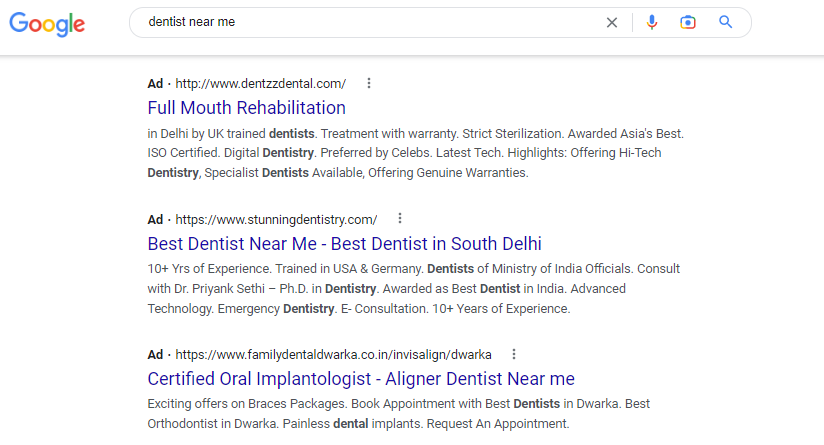 As you have not invested time and money in promoting your website or your services on Google, you would miss every opportunity to get a new patient to walk in through your door. And thus instead of being able to attract your ideal patients, you are letting them walk away to other dentists in your area.
Being a dental office owner, do you want this to occur? Well, I think not at all!
And therefore you need to leverage your online presence and utilize the digital space to get more dental patients. 
How to leverage your online presence?
Your website is the primary online presence for your dental practice. But it won't just rank on top of Google Searches if you don't promote your website or invest in optimizing your website for search engines. 
Search Engine Optimization (SEO) & Google Adwords or Pay Per Click (PPC) Marketing are some trending Online Marketing tactics that you can use as a Dental Practice owner to rank your website on Top of Google Searches and attract more patients.
Define Your Target Audience & Create a Marketing Strategy to target your audience: Identify your ideal patient and create marketing materials that speak directly to their needs and pain points. This can help you attract the right type of patients and avoid wasting time on those who are not a good fit.
"Why rely on referrals only when you can have your own system of targeting your ideal customers and driving in more patients."
Develop a Referral Program to Win More Local Dental Patients
Encourage your existing patients to refer their family and friends by offering incentives such as discounts or free services. This can help you gain new patients through word-of-mouth marketing. 
This might sound easy, but it won't happen if you don't really care for your patients and think of them as a money-making machine. To get your existing patients to do the word-of-mouth marketing for your dental practice, you will need to go beyond just fixing their teeth and smiles. You need to connect with them on an emotional level. And when you achieve that, your existing patients can happily and proudly refer your dental services to their friends and family. 
Do Some Local Outreach
Participate in local community events and sponsor events that are relevant to your dental services. This can help you build brand awareness and show your commitment to the community.
Participating in such activities will get the attention of the masses, which can again help in adding some new patients to your dental practice.
Establish a Presence on Social Media for your Dental Office Growth
Dental practices can get more patients by developing a Social Media presence. As a practice owner, you can utilize social media channels such as Instagram, Facebook, and YouTube to share your story, work, and other content in the form of short videos, and infographics. The goal should be to keep it real and connect with your audience. 
Everyone is unique in their own way. Someone can be really good with video making and being in front of the camera, someone else could be afraid of coming in front of the camera but they can be good with creative writing. Explore social media platforms and see what other Dentists are doing with their Social Media to attract more dental patients. Share educational content, testimonials, and promotions on your social media pages to create engagement with your followers.
Exploring what other Dentists do will give you some ideas about what type of content you can create for your social media presence. If you think you can do something unique with your social media, go for it. No idea is a bad idea.
The end goal is to utilize social media to be able to create something and bond with your audience and local people so they can remember you when they need dental services. 
Develop a Content Marketing Strategy to get more dental patient inquiries
Provide valuable content for your target audience in the form of blog articles, videos, infographics, and other media. Use this information on your website and social media profiles to position yourself as an industry thought leader.
Pro Tip to attract more Dental Patients faster:
Investing in Paid marketing like Google Pay per Click Ads and Facebook Ads can give a quick boost and you can start getting new patients from the very first month of launching your marketing campaigns. Other marketing strategies like Search Engine Optimization (SEO), content marketing, and growing on social media can take some time. 
Ensure providing a call to action, such as scheduling a consultation or contacting your dental office for more information.
Need a one-on-one Dental Marketing Growth Strategy?
Contact your dental marketing specialist today!