Dentist PPC Agency
Get New Patients in just a few Clicks using Pay Per Click (PPC) Advertising
HOME>> Dentist PPC Agency
Dentist PPC Marketing Case Study
Leadschief's Dental Advertising Experts help dental practice owners attract a minimum of 30+ Patients every month using Google Ads Marketing.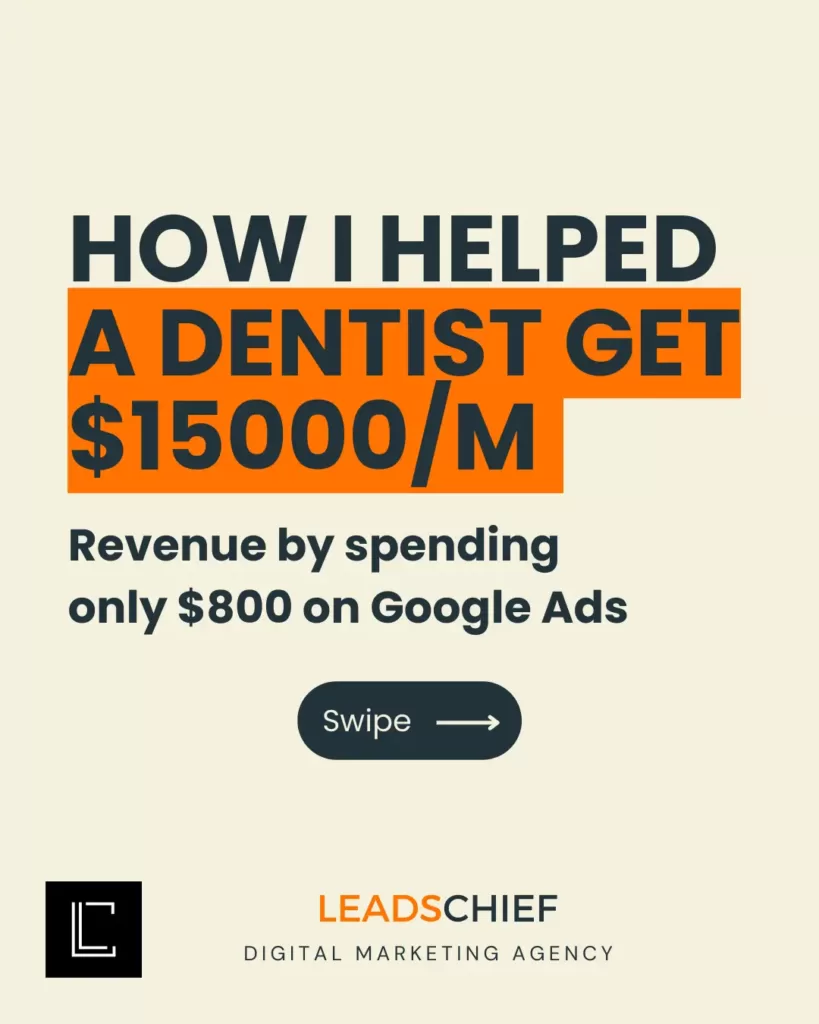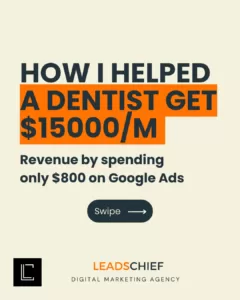 Tap on the image👆 to read the full story on Instagram
Dentists Using PPC Marketing Get Consistent Results
Need to speak to a PPC Expert?

Why do you Need a Dental PPC Agency for your Dental Practice?
In today's digital age, people are increasingly turning to their smartphones and computers to search for dental and other healthcare services. This is why, it is essential for dentists to establish a robust online presence and implement a well-planned online marketing strategy to effectively reach out to potential patients searching for dental services using their smartphones or computers. Having a well-crafted online marketing strategy is essential to reach out to people actively seeking dental services and position their practice as a top contender. Neglecting this aspect may result in losing existing patients to competing dentists, as well as missing out on potential new patients who could have otherwise chosen your practice.
While most dentists are aware of the need for digital marketing, many don't always know how to do it effectively. Just launching a website is not enough – it needs to have search engine optimization (SEO) to show up on search engine search results pages. SEO is a relatively slow process, but it guarantees results for months or even years in the future.
 With the use of PPC advertising, dental practices have the possibility of elevating their ads and website to the forefront of Google search result pages.
Dentists can use SEO & PPC marketing for the growth of their dental practice. Partnering with a Digital Marketing Agency can be your best move to save time and get efficient marketing results. In today's digital age, having a strong online presence is crucial for any business, including dental practices. As a dental PPC agency, we specialize in helping dental practices like yours improve their online visibility and attract more patients through the power of pay-per-click advertising.
Dentist PPC Marketing Services
Boost Your Online Presence & Book more Patients with our Dental PPC Agency!
Having a strong online presence is critical for any business, including dental practices in today's digital age. As a dental PPC agency, we specialize in assisting dental practices like yours to improve their online visibility and attract more patients through the power of pay-per-click advertising.
Our experienced PPC specialists work collaboratively with you to understand your specific business objectives and target audience. Then, we create custom PPC campaigns that are tailored to fulfill your particular requirements and designed to maximize your ROI.
By utilizing advanced targeting techniques, our dental marketing services drive good-quality website traffic, resulting in more leads, calls, and conversions for your dental office. We ensure your ads are displayed to the right people at the right time.
Our primary goal is to provide measurable results for your dental practice. We monitor and analyze all aspects of your PPC campaigns, from click-through rates to conversion rates, and use this information to continuously optimize your campaigns for maximum effectiveness.
Complete Dental PPC Management
With Leadschief custom Google Ads & Pay Per Click Management services your dental office can attract qualified patients. Managing PPC Ad Campaigns can be tiring work and that is why we offer full PPC management services, so can focus on your core business tasks. Our PPC experts will do all the ad setup and management for you.
Keyword Research
Dental Keywords are the soul of Dental PPC Advertising. Using the right keywords and bidding appropriately on them for your PPC campaigns is the way to get more conversions. Our dental PPC specialists conduct extensive keyword research and data analysis to identify the most accurate and relevant keywords for your practice.
Creative Ad Writing
Your Dental Ads are the first thing your patients will see before they visit your website. Dental PPC Ads need to have a clear message, so online users can click and make an appointment with your dental office. Leadschief's Dentist PPC Agency and its team will do all the copywriting to drive more conversions and new patients.
Landing page Optimization
People clicking on your PPC Ad is only the first phase of converting more patients. After the user clicks on your ad, they land on your website, and therefore it is needed to optimize your landing pages or websites so you can get a better conversion rate and end up getting a higher return on your marketing spend.
Facebook Advertising
There are billions of people who still use Facebook and therefore advertising on the largest social media platform i.e. Facebook can add more patients to your Dental Office. Leadschief's Dental PPC specialists are well-versed in how to set up successful Facebook ad campaigns and draw in more patients to your dental office.

A/B Testing & Ad Optimization
When in doubt test, and when something doesn't work, change! The same applies to PPC Advertising for Dentists. We will monitor your Ad Campaigns to keep checking for areas of opportunity. They will perform tests and replace anything that is less fruitful or not working with something that will yield better results.
Meet Your Dental PPC Marketing Expert
Harnessing their expertise, in Pay per Click Marketing, Dental PPC Marketing Experts aim to elevate your dental practice's online visibility and drive patient traffic to your website. By utilizing their specialized skills, their goal is to help your practice thrive.
We bring 4+ years of Dental PPC Marketing Experience and knowledge to help your practice attract qualified patients.
What you can Expect when you work with our PPC Marketing Experts:
Customized Dental PPC Campaigns
Our experts will collaborate with you to develop customized PPC campaigns that are tailored to the specific goals and target audience of your practice. We will conduct extensive research to identify the keywords and search terms most relevant to your practice, and we will use this information to create highly targeted ad campaigns designed to attract the right patients at the right time.
Transparent Reporting
We believe in complete transparency when it comes to our PPC campaigns. That's why we provide detailed reports on a regular basis that show you exactly how your campaigns are performing. You'll have access to real-time data on your campaign's clicks, impressions, and conversions, as well as insights into what's working and what's not.
Dedicated Support
When it comes to our PPC campaigns, we believe in complete transparency. That is why, on a regular basis, we provide detailed reports that show you exactly how your campaigns are performing. You will have real-time data on your campaign's clicks, impressions, and conversions, as well as insights into what is and isn't working.
Results-Driven Strategies
Our dental PPC experts are laser-focused on delivering results for your practice. We use the latest industry best practices and strategies to create campaigns that are designed to drive high-quality traffic to your website and convert those visitors into new patients.
Why Choose Leadschief as Your Dentist PPC Agency
We Bring New Patients through your Dental Office Doors!
Happy Clients
"As a small business, we have to prioritize the value and efficiency of our advertising campaigns. I'm happy to partner with Leadschief to manage the Google advertisement. Leadschief's team is professional and easy to work with. With their help, Google ads conversions increased a lot. Highly recommended!"
– Vincent (Owner of Dental Assisting School)
Need a Google Pro to handle your Google Ads? Leadschief has been instrumental in helping our restaurant design customized Google Ad campaigns. We appreciate the periodic monitoring and adjustments to increase effectiveness. Our sales and production has increased greatly – couldn't be happier!
– Khanh (Owner of a Seafood Restaurant)

PPC Marketing Results for Dentists
We Offer Money-Back Guarantee
Being the owner of Leadschief Marketing Agency, here is my personal promise to you. We are confident that we can accomplish particular results for dentists for which we have a track record of success. If you don't get the desired results we promise you as your Dentist PPC Agency, we will refund your money back.

Some of our clients have been taken advantage of by untrustworthy freelancers. They have already been burned by unethical agencies. We recognize that we must gain your trust, which comes with developing a true connection with me and my agency
More From Our Dental Blogs
Ready to Grow your Dental Practice with Leadschief PPC Marketing Agency
We are ready when you are!